Judeo-Christian Publishing
Online Publishing (for your reading pleasure)
The Zero Sugar/ Low Carbohydrate Wellness Enhancing, Life-Style Alternative Diet
Introducing i26 (pure Hyperimmune Egg) powder
Designed to address imbalances in your body's metabolic, immune, intestinal, and hormone systems.
and i26 "Fit"
an advanced high protein, fiber enriched meal replacement/ recovery drink and "snack shake"
as an integral part of this complete health and wellness program:
Suggested Reading
Living With Your Heart & Lungs
Paperback and Download:
The field of cardiopulmonary medicine (heart and lungs) becomes more complex with every pandemic, each new disease (like... Swine Flu, H1N1) and each medical breakthrough. Understanding the scope of your care and available treatment options has become staggering. With the imminent changes to our healthcare system, it is paramount that patients today become informed medical consumers. You, your family, and loved ones will have limited financial/ reimbursement resources to spend on medical care each year. Between advancements in medicine and the lack of control in medical malpractice law suits your healthcare provider is forced to practice defensive medicine. This practice has made medical care tremendously expensive. You and your loved ones must become informed medical consumers in order to spend your medical funds wisely. This book is your vital source of trusted information, conveniently presented in words that you and your loved ones can understand, in order to make informed medical decisions.
Paperback and Download:
Your Prescription for Wellness contains the information that you need to develop an individually and personalized meal plans (proper eating technique), not just some generic diet plan as well as why many people fail. There are millions of diet books available on the market, but the reality is that you don't need them. The diet plans that ship you the food that you eat for the month (kind of) have the right idea, but the facts are that it is expensive and you can do it better than having someone do it for you. Your Prescription for Wellness will teach you to stylize an effective program for a lifelong plan to optimize your health and to stay trim. It is your responsibility to provide your body with the means to survive and to thrive. This can only be accomplished by providing the required nutrients (vitamins, minerals, proteins, amino acids, antioxidants etc) and by not overburdening the body with harmful products which subvert its functioning (i.e. excess fats, simple sugars etc.).
Data-stat respiratory therapy desk Reference
Stanley Louis Bryant, Jr. CRT, NREMT, Advanced Respiratory Therapist Practitioner, Mayo Clinic, St. Luke's Hospital, Jacksonville, FLby,
Helen Schaar Corning, RRT, Respiratory Therapist, Mayo Clinic – St. Luke's Hospital, Jacksonville, FL, USA;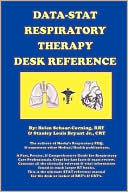 This book is a fast, accurate, precise, & comprehensive guide for Respiratory Care Professionals. Great for fast facts & exam review. Contains all the clinically relevant & vital information found in much larger RT books. This is the ultimate STAT reference manual for the desk or locker of RRT's & CRT's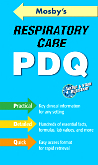 Mosby's Respiratory Care PDQ
Mosby's Respiratory Care PDQ is a comprehensive and precise pulmonary reference manual that gives you STAT access to all the vital data you need in the clinical setting. This book is designed for speed with much of the data organized into fast-access charts and tables. The entire scope of adult pulmonary care is included with a brief chapter on Neo/Peds. Chapters include Diseases, ABG's, Hemodynamics, Lab Values, PFT's, X-rays, Mechanical Ventilation, Formulas, & much more! Unlike other pocket guides, this is in full color, and has durable plastic-type pages designed to last. This is the newest "state of the art" respiratory pocket guide that no therapist should be without.
Helen Schaar Corning, RRT, Respiratory Therapist, Mayo Clinic – St. Luke's Hospital, Jacksonville, FL, USA;
Stanley Louis Bryant, Jr., CRT, NREMT, Advanced Respiratory Therapist Practitioner, Mayo Clinic, St. Luke's Hospital, Jacksonville, Fl